Facility Maintenance Software
Maintain the efficiency and productivity of technicians and equipment.
What is Facility Maintenance?

Imagine being able to improve equipment performance and reducing downtime while also extending the operational life cycle of the equipment and assets in your organization. Our Facility Maintenance system enables organizations to reduce costs by efficiently managing your technicians, measure performance against Service Level Agreements (SLA's) and identify under-performing areas across all your facilities through a powerful and secure Web-based Computerized Maintenance Management Software (CMMS) solution.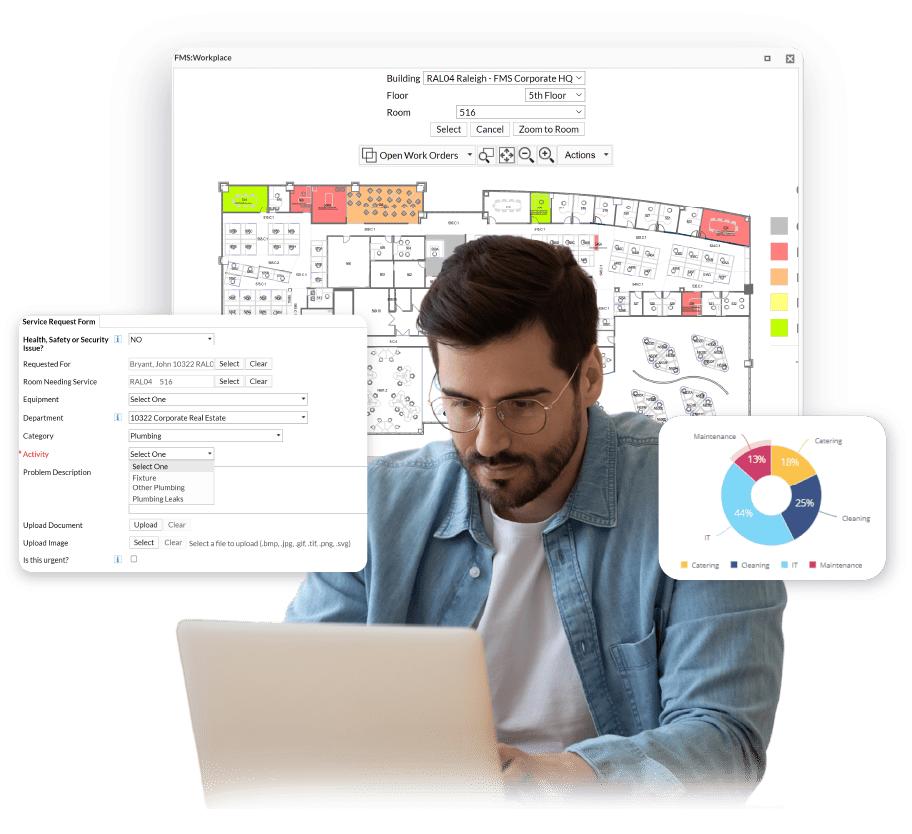 What Are The Benefits of Facility Maintenance Software?
Facility maintenance management software is designed to unlock your facility management potential in one interface, allowing you to track current projects, plan for emergencies and create updates based on maintenance requests, including tracking work orders in real-time. Armed with all of this information, you can keep your facilities up to date to avoid costly downtime, prevent breakdowns before they happen, plan preventive maintenance and better respond in the event of a disaster or other unplanned circumstances.
The Business Case for Software
Track current and future service requests to keep your organization running smoothly.
Eliminate costly inefficiencies related to preventable downtime or facility disruption.
Plan for worst-case-scenarios related to disasters or emergencies.
Key Features of The Right Facility Maintenance Software
Support for corrective and preventive program needs
Configurable workflows & notifications
Real-time reports and dashboards
Integrated Visualization of maintenance data on floor plans
Allows employees to create and track service requests
What Are the Benefits of FM:Systems' Facility Maintenance Software?
A more efficient work order process
Configurable workflows, notifications and forms enables you to create a work order process that matches how your organization works.
Easily visualize maintenance related data on your floor plans including systems, areas where maintenance is scheduled, work categories, priorities and more.
Go beyond just making repairs
Create, manage and measure highly effectively corrective and preventive maintenance programs which can serve all the facilities in your portfolio.
Increase employee satisfaction
Empower your employees by allowing them to enter their own service requests and track their status online, by email or notifications delivered to your mobile devices.
Why Adopt A Data-Driven Approach?
With the ability to manage business intelligence maintenance dashboards, you can keep your organization running smoothly by eliminating costly inefficiencies. Armed with visually rich displays and powerful data, it's never been easier to communicate upwards with business leaders and key executive stakeholders. When you provide full metrics transparency, you can guarantee your entire facility team is on the same page.
Build an ever-ready strategy
Do you know when your warranties expire? How about what to do if there's a natural disaster that impacts your buildings? A facility management system can help organize all of that. Contact us to learn how FM:Systems can set you up for optimal facility management.