Workplace Management Solutions
Looking to keep your workplace running smoothly? Our workplace management solutions offer insight into the upkeep and optimization of your space and assets.
What is Workplace Management?
Workplace management is the upkeep and optimization of your physical space and the assets within it. To help facilities teams operate and maintain highly dynamic building portfolios, FM:Systems created the FMS:Workplace suite of software solutions. Access to accurate data means facilities and real estate professionals can deliver better customer service, reduce costs and improve the performance of their facilities portfolio-wide.
Learn more on our blog Workplace Management: What it is and what are the benefits?
Use FMS:Workplace to Manage your Current Space & Assets While Planning for the Future
FM:Systems' broad workplace management solutions specialize in space management and optimization, assets and maintenance, strategic real estate planning, resource scheduling, as well as projects and sustainability, empowers our clients to gain insight into how their facility space is performing, how they enhance efficiency and create an employee-centric workplace.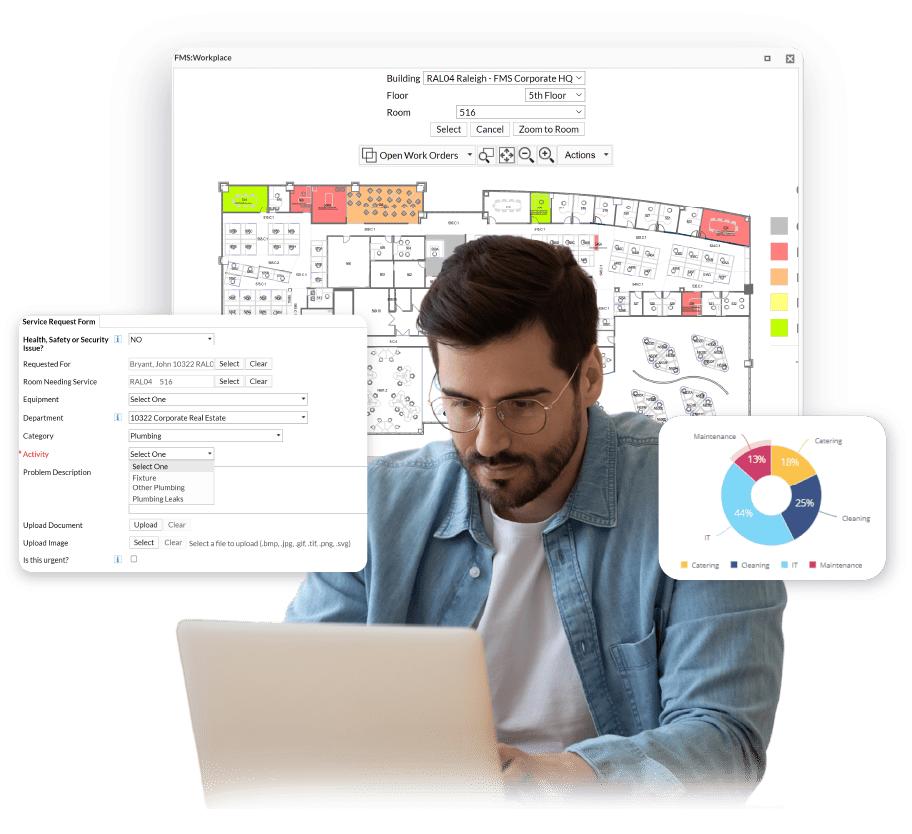 Workplace Management Solutions
FMS:Workplace is a modular, flexible, easy-to use Integrated Workplace Management Solution (IWMS) that enables organizations to manage, analyze and report on facilities and real estate operation and maintenance (O&M) information.
FM:Systems is in pursuit of FedRamp Moderate Authorization for our FMS:Workplace product in 2023.
Benefits of FM:Systems' Workplace Management Solution:
Bi-directional Drawing and Model Integration
Easily manage bi-directional integration with asset blocks and families on your AutoCAD and Revit drawings and models
Centralize all Your Facility Projects
Centralize all your facility project information including requirements, approvals, budgets, schedules and vendors
Complete Asset Inventory Management
Take control of your entire asset inventory including managing location, assignments, ownership, maintenance history and more.
Customizable workflows, notifications and forms enables you to create a work order process that matches how your organization works
Build an ever-ready strategy
Find out why our 1,200+ customers around the globe can enjoy the strength of a single best-in-class solution – or unlock the power of our fully-integrated platform – to address their most pressing challenges today, tomorrow and 100 years from now.